An Invitation to Trust Yourself and Join Us…
Yoga is like a love affair and I remember my first encounter so clearly. It was 7:30 p.m. on a winter night and I stepped into a Power Vinyasa studio in midtown Sacramento. The room was hot, the music was loud, the class was challenging and the teacher was hip with a dry sense of humor. I remember feeling a bit out of place knowing no one in the room and feeling like I wasn't quite "cool enough" for this place. But near the end of class a song came on – a deep, rhythmic voice, words I didn't understand and it tapped into a place inside myself I never knew existed.
With tears in my eyes, I knew this was my path – I fell in love and there was no turning back.
Prior to this night I stayed as far away from yoga as I could. I was a runner, triathlete and rower and I didn't think yoga would be enough of a workout for me. I also thought stretching was boring and my body was not flexible at all! When I went to classes I felt like a failure as I looked around the room and saw all the pretty poses I coudn't do. So, like I said I stayed far away!
What got me to my first power vinyasa class then? It was my job.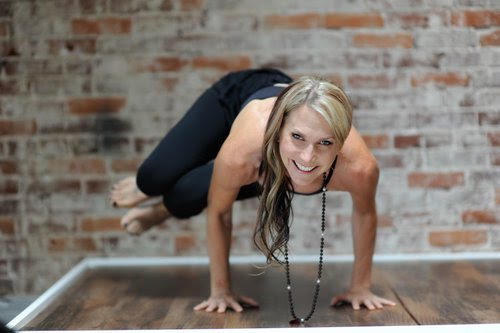 It was 2009 and I was working at the counseling center at Sacramento State. I was leading a group with a yoga teacher to help young women who were sexually assaulted. We lost funding and could no longer pay the yoga teacher. I didn't want to stop the gorup so I thought "I will take a yoga teacher training and teach the yoga myself". That is when I landed in that class playing the beautiful tunes of Krishna Das – a famous kirtan artist.
After that first class, I signed up for the teacher training that was starting the next month. I was nervous and had no idea how I was going to afford it. But I had credit cards so that took care of that. The next question was, who was going to take care of my kids. I had just gotten divorced with two small boys, ages 3 and 4 and didn't have any family or babysitters to help me on the
weekends of the TT. But by some miracle my x-husband offered to help out.
It's kind of like that – when you say "yes", the universe says "yes" back in miraculous, unexpected ways.
My plan was not to teach yoga. No way would I get up in front of a room full of people calling out poses! I was only there to learn a few basic things so I could help the women in my group. But never say never. During the training I was asked to audition to teach at a studio in Folsom and after that audition I was sucked in – I knew I had to teach. There is so much more to this story that I want to tell you, and I will at the training.
But for now, I just want to say to you is that if your heart is calling for you to do this, join us! Your head may have no idea where this training will take you or how you will make it happen time wise or financially – but if your heart is saying "yes" there is a reason. So trust the wisdom of your heart and know that magical things will happen to support you if you choose to say "yes".
Yoga is the greatest gift I have ever been given. It introduced me to community, freindship, love, compassion, steadiness, empowerment, freedom and so much more. And I am sure that if I never discovered it I would be home on Saturday drowning my sorrows in a bottle of wine, rather than writing this to all of you. But here I am writing to you on a Saturday night, fully content and in joy because yoga has become a way of life.
So if you are ready to take your practice deeper. If you are feeling stuck and want to learn more. If you are craving connection to others. If you are struggling being alone in your own space. If you are confused as to your next steps in life. If you want to teach yoga. Join us – it doesn't matter the reason. If you feel the call, you belong in this teacher training. We are going to have so much fun on this journey. I am so psyched to lead this training with Jesi Young and to become a part of the PureJoy Community. I love teacher trainings so much that I have gone through 8 myself, traveled to India multiple times to learn more, and this will be the 7th TT I've led. I can't wait to share all that I have learned with you.
But this teacher training will be more than just book learning. It will be a journey of awakening to your inner wisdom and vision for how you are meant to share the teachings.
Click here for further information and please reach out to Jesi or myself with any questions.
Senidng love, c